Characteristics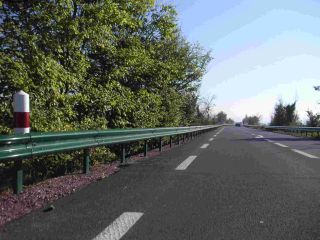 The Euro GS N2 W5 comprises an 'A' profile guardrail, spacers and C100 supports at 2 metre intervals. Its difference when compared with the Euro GS N2 W6 is its inter-axial distance.
In the event of a crash, the supports bend, detach themselves from the cross piece, and the guardrail forms a pocket. The vehicle is thus redirected by the cross piece which plays the role of a belt.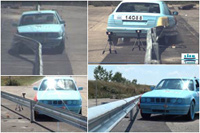 Performances
The Euro GS N2 W5 guardrail is a product which meets N2 level requirement in accordance with the EN 1317-5:2007 standard.
The EuroGS N2 W5 guardrail was admitted for the CE mark on 30 November 2009 under N° 1826-CPD-08-02-03-DR3.
Containment level : N2
Working width : W5 (1,4m)
Dynamic deflection : 1,2m
ASI : A (0,8)